Hi everyone,
Di here again, with lots of fun Lyndsay stuff to show you, including a new release, a special bundle offer, contest details and a freebie....so let's get started.
Remember the adorable
Color Me Girly Kit
that Lyndsay released last month? Well check out the equally sweet
Color Me Boyish Kit!
As always, this Fresh Fruit is 20% OFF the regular price until July 22!
Color Me Boyish Full Kit
(reg $5.99)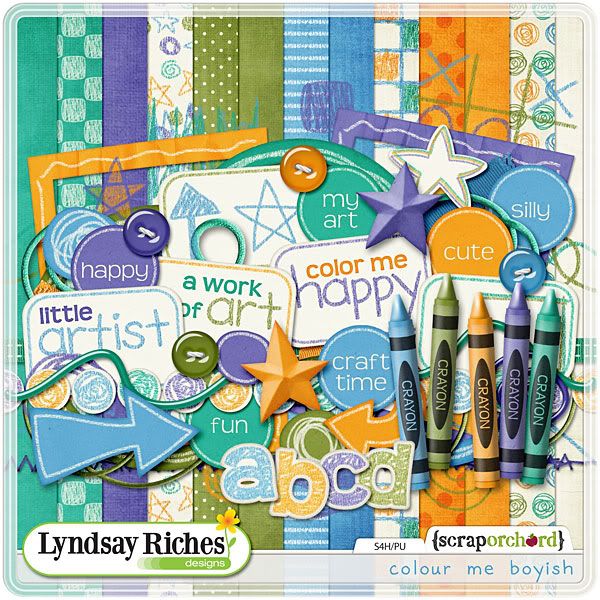 Special Free with Purchase Offer
Buy the Color Me Boyish Kit and get the Quick Page Pack free!
July 16-22
Color Me Boyish Quick Page Pack
$3.19 (reg $3.99)
And if you want to purchase BOTH the Color Me Girly and Color Me Boyish kits, why not purchase the bundle for some extra savings!
Color Me Bundle
$9.99 (reg $12.00 Value)
Purchase until July 22 at just $7.99
A Special Freebie for You!
Download this fun pack of crayon doodle elements that would look great with either of the Color Me Kits! Click on the image,
or here
, to download from 4shared.
Phew! That's some awesome goodness at
Lyndsay's store
. Isn't it!
I've got one last thing to share with you.
Scrap Orchard
is having an amazing competition, where you can win some incredible prizes! Just look at these!
This is a contest you don't want to miss out on. Prizes include an iPAD, iPOD Touch, Scrap Orchard Gift Certificates, and so much more! And it's super easy to participate! Just collect points by completing the challenges. The more points you collect, the more chances you have of winning. There's no eliminations. There's no judging! Just a prize drawing! The game is already ON! ....so hop over to
the Iron Scrapper forum
for all the details! You know you want to!
Well I'm blogged out! I hope you have a super scrappy weekend.
Di